Champon is originated from this restaurant.
This restaurant is located near the Oura Temple and Glover Garden.
Since it is a sightseeing spot,
there are many tourtists visit this restaurant at lunchtime.
On holiday, it is hard to eat Champon because it is full of seats.
Whenever I went to this restaurant,
there is the signboard "no vacancy".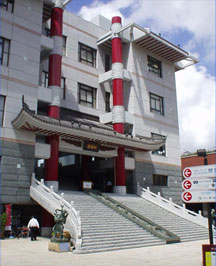 The building of Shikairou which rises up.
The second floor of Shikairou there is "Champon Museum"
where you can understand the history of Champon.
According to it, "Saraudon" was also originated from Shikairo
and cooked a variation of the Campon.
Firstly, Saraudon was cooked with less soup
and the soup was all infiltrated into noodle.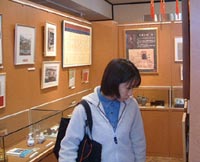 Champon Museum. No charge for admission.
A meal is served at the view restaurant of the 5th floor.
You can see a whole view of the Nagasaki port.
The taste of the soup is rather thick than other Chinese restaurants,
I favored it.
Saraudon is completely different from other Chinese restaurant.
Usually, it is with crisp noodles and topping in a thick souse,
but Saraudon in Shikairou is noodle infiltrated Champon soup.
I think the Champon and Saraudon are delicious,
but Nagasaki people are not favored Shikairou's taste.
(It may be because of the Champon and Saraudon of Shikairou
is more expensive than other Chinese restaurants.)
But I probably recommend tourists to eat Champon in Shikairou.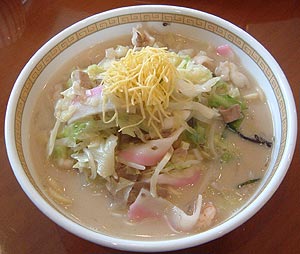 This is the originator! The Champon of Shikairou.